With the recent release of the Raspberry Pi 2  - which clocks in at 6x more powerful than its predecessor, yet is the same price - we figured suggesting a few neat ideas for things you could do with a shiny new Pi (or the original that you may have lying around somewhere) would give some folks a weekend project or two!
Wait, what's a Raspberry Pi? 
Unlike the similarly named dessert, the inedible Raspberry Pi is a cheap and cheery micro-computer which can use the same peripherals - monitors, keyboards, network etc. that a standard computer does, and for all intents and purposes could easily replace low-powered machines.
The beauty of this little computer is its versatility. Built primarily for low-intensity Linux-based operating systems (Ubuntu, Fedora, RedHat) running from an SD card, operating systems which are tailor made for specific purposes from streaming films and TV to your living room, plugging in a controller and playing SNES / MAME games, to streaming Spotify to your sound system and running a dedicated Minecraft server. The little Pi can pack more punch than you'd expect when set up to achieve a specific goal.
For most projects, you'll need an SD card, a HDMI cable (most of us have one lying around, they tend to come with your TV, console or PC monitor - otherwise cheap-as-chips USB wifi dongle.
So if you haven't already got one, go spend the equivalent of three pints of beer and a burger from the pub (that's around £25) on the latest Raspberry Pi 2 model and spend a weekend on one of these projects, and be sure to let us know how you get on!
Originally the RaspBMC project, has since been expanded to include a whole multitude of other devices and setups, but with an optimisation focus on the Pi 1 and 2 builds, which is handy.
OSMC stands for Open Source Media Center, and operates like other network media streamers such as the software found on smart TVs, WDTV boxes and gaming consoles, but goes a whole mile further and disappears over the sunset-laden hills. This free project hooks into other open-source software for streaming libraries, information scraping and external interfacing, most of which have active and passionate development and support communities, meaning the technologies and software involved will continue to grow and be improved!
"Okay, open-source and free is all lovely, but what does this actually do?"

OSMC will search your local network for devices with films, TV or music and scrape its media databases for the relevant information about them, compiling all your media into a single accessible place which you can control directly with the keyboard, your phone (using apps such as Yatse), or its own internal web server (which can be customised or re-built if you're so inclined). On top of accessing remotely, it can also stream your local media to your phone or tablet, so you can watch that episode of Vikings whilst in bed or shamelessly play the latest Lady Gaga album whilst cooking.
If you get bored of your personal collection of media, the open-source nature of OSMC means there are hundreds of plugins and addons which can allow you to stream from Netflix, BBC iPlayer, YouTube, Vimeo etc.
Fancy giving it a go?

You'll need to download and install OSMC on to your SD card and pop it in. Making sure it's connected to the network, plug the Pi into a power source and it'll run through the cycle of ensuring it's updated, then it'll scrape around your network for any shared media sources (you can point it in the direction of specific media sources you'd like it to use if it has a hard time) and you should be good to crack out the popcorn and have a movie night in!
If you run into any trouble, have a poke around the wiki or ask around on the forums for some help!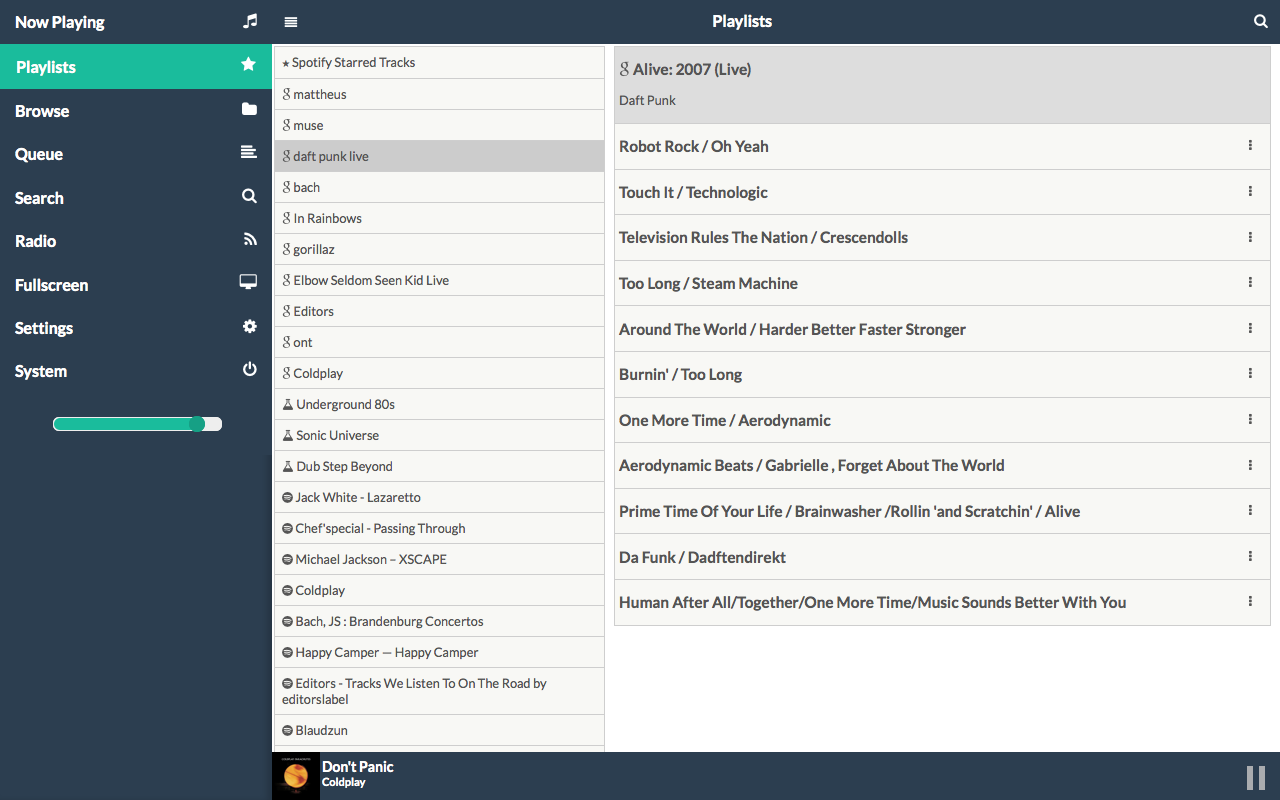 If you're getting annoyed at having to plug your phone or laptop into the living room speakers to play music around the house, or want to stop the radio station arguments at work: Then MusicBox can swoop in and help out by offering a cloud-based solution!
MusicBox is a packaged Mopidy music server with its own remotely accessible interface, the two of which work together allowing you to wander around the house with Mr Scruff on loud or liven up the office by queuing up music via your from Spotify, Google Play, Last.fm, YouTube or the MP3 files from Owen's laptop.
Its usefulness comes from its seamless integration of all these services, you don't need to switch from that Spotify playlist onto a local album: Modipy doesn't care, it's all just music to it, so you and your musically different colleagues can queue up whatever you like from wherever you like and it all gets blended into a seamless stream of music.
To use MusicBox, download it and install to your SD card. If you need it to connect to your wifi, you'll need to either plug your Pi into a computer using an ethernet cable to access the settings page, or you can manually set it in the config.ini file on the SD card). Plug the card in, optionally plug it into your TV using a HDMI cable (not necessary, only for seeing if anything goes wrong) and power it up. After a couple of minutes of initial booting, you should be able to access it remotely via your computer or phone at http://musicbox.local
If you have any problems, be sure to check out the FAQs, MusicBox Manual or ask on the Modipy forums!
If you reminisce about the days of old when Space Invaders, Donkey Kong and Pac-Man were the latest crazes in arcades, or want to play Pokemon Red again after your Gameboy's internal battery finally died after a decade, or heck, you want to play Crash Bandicoot again but can't find your PSX anywhere, PiPlay wades in with arms full of old consoles, a six pack of beer and promises of a great evening ahead.
Able to emulate everything from the MAME classics (1942, Metal Slug, Street Fighter), SNES and MegaDrive (Sonic, Mario Kart, Mortal Kombat, Gauntlet), Gameboy and GBA (Pokemon! Kirby! That Metal Gear Solid game no one talks about!) and even Playstation 1 games (The Metal Gear Solid game everyone talks about, Final Fantasy, Spyro).
The only thing missing from this literal arcade in a box is an N64 emulator, but you can be consoled by being able to play the original Starwings using a USB SNES controller. If you like the idea of turning your living room into a small arcade, go download the latest version of PiPlay and copy it over to your SD card. Plug your Pi into your TV, network and power it up.
The best way to set it up would be via the web interface (although it offers a command-line interface if you enjoy that sort of thing) where you can upload ROMs, launch emulators and such. Check out the Quick Start Guide to help you along your quest, and be sure to ask in the PiPlay Forums if you get stuck anywhere!